Don't miss this inaugural event!
This 21+ evening is your opportunity to enjoy a fun-filled evening on the ranch with friends while raising much needed funding for our nonprofit. Did you know that more than 6,600 sessions are conducted every year at Leaps & Bounds. With every session, children with disabilities are one step closer to maximizing their potential and reaching their goals. None of this is possible without many individuals coming together to show their financial support for our riders and our programming.
Join us at Barn Bash 2023 to show your support!
Tickets are $100 per person
One general admission ticket includes four 6oz beer tastings from local breweries, live music, free line dancing lessons and an evening of fun. Buy early and get a $10 early bird discount on each ticket.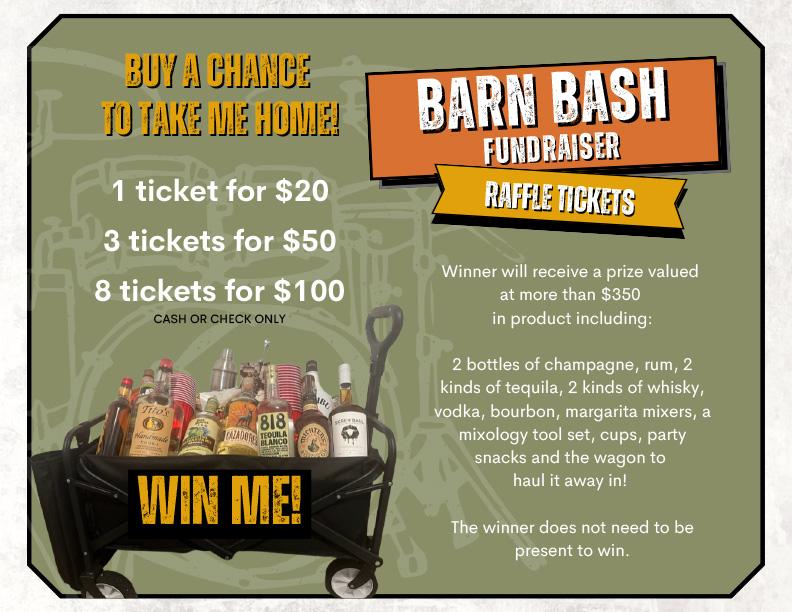 Raffle tickets are available for purchase at the front desk of both the Norco main campus and the Corona Dos Lagos location.
Grand Junction Band
HONKY TONK VIBES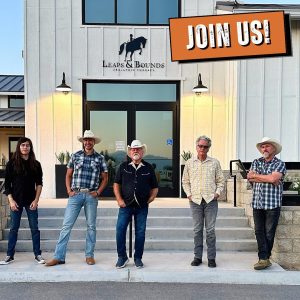 Grand Junction, a premier country band hailing from California, boasts an impressive lineup of five highly acclaimed career musicians who bring a blend of traditional and modern country music to their audiences. Since their formation in 2008, the band has been a mainstay in Orange County, captivating fans with their contemporary sound that pays homage to their traditionalist roots and captivating live performances, earning them a devoted following and opening slots for national acts.
With a regular touring schedule throughout California, Grand Junction has graced the stages of renowned venues such as Gilley's in Treasure Island, Las Vegas NV, The Ranch in Anaheim, Cowboy Palace in Chatsworth, Cowboy Country in Long Beach, Saddle Sore in Norco, Whiskey River in Norco, Cooks Corner in Trabuco Canyon, OC Tavern in San Clemente, and the world-famous Swallows Inn in San Juan Capistrano. Additionally, the band has performed at countless private events for various communities and clients throughout California, as well as annual BBQ festivals, fairs, and holiday celebrations.
Beer Sponsors
Event Sponsors
FAQ's
Do I need to be 21 to attend?
Yes, all event attendees and volunteers will be 21 and over.
Can I help as a volunteer?
Yes, we need many volunteers to make this event possible. If you are not planning to purchase an event ticket for admission and you are at least 21 years of age, please contact Colleen Bragalone at cbragalone@leapspediatric.org or (951) 339-3510 for more details on how to participate. Volunteers will not be allowed to drink alcohol at the event.
Are my tickets refundable?
No tickets are not refundable. Should you need to transfer your tickets to someone else, please contact Colleen Bragalone at cbragalone@leapspediatric.org or (951) 339-3510.
May I bring in additional alcohol to the event?
No, no outside alcohol will be allowed. Additional beers may be purchased and there will be a wine-pull fundraiser at the event where bottles of wine may be purchased.
Will we be able to interact with the horses and other animals at the event?
At this event, you will not be allowed to interact with the animals. We are cautious not to place our animals under undue stress. Therefore, we are giving them the evening off. Thank you for understanding!
Excess intoxication or unacceptable behavior will not be tolerated.
We hope you will enjoy this fun-filled fundraiser. We look forward to you joining us. We ask that you please drink responsibly designating a sober driver or utilizing a ride share service. Security personnel will be onsite and monitoring the event. Should you need to leave your car on our property overnight, you may do so at your own risk. Please let valet or security personnel know if you will be doing so to ensure we do not tow your vehicle.