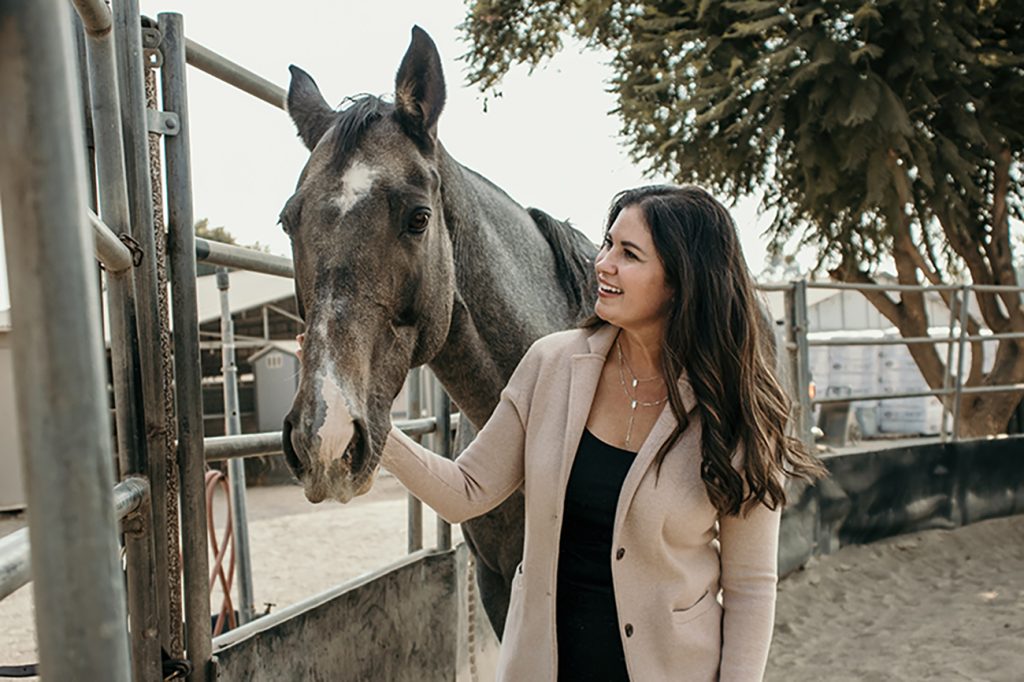 Leaps & Bounds Pediatric Therapy started in 2010 with Dr. Sanders-Holly in a small office helping just 4 patients in the first 6 months in Norco, California. Over the past 12 years, Leaps & Bounds has grown to a team of the most dedicated and talented therapists in the industry who now collectively serve over 1,000 patients per week with locations in Norco and Corona.
Dr. Sanders-Holly was born and raised in Norco and fully immersed in the equestrian lifestyle throughout her childhood, as well as heavily involved in community activities. She pursued her dream of becoming a Doctor of Physical Therapy and fell in love with pediatrics!
She has practiced physical therapy with pediatric clients for the past 10 years and specializes in early intervention and working with children with neurodevelopmental disabilities in their home, school, and clinic setting.
She is a proud member of the American Physical Therapy Association and is dedicated to lifelong learning through extensive continuing education. In addition to practicing physical therapy, Cassandra is an adjunct faculty member at the University of Southern California. She teaches pediatrics throughout the curriculum including patient management techniques and motor performance across the lifespan. She has also published an editorial-type feature in Pediatric Physical Therapy, the official journal of the American Physical Therapy Association Pediatric Section and is trained in Hippotherapy treatment techniques. She is currently conducting research on Hippotherapy treatment techniques in conjunction with faculty at the University of Southern California.
Let's get to know Dr. Cassandra Sanders-Holly!
1. What made you get into your field of work – therapy specifically?
I have been a dancer since childhood and aspired to have a career that encompassed something related to movement of the body. In undergrad, I was a double major in dance and kinesiology, and through my studies was introduced to the discipline of physical therapy. Physical therapy is the perfect combination of these two majors, the art and science of human movement. As a child, I'd always been fascinated with human movement. I grew up across the street from a man who was a paraplegic from a spinal cord injury and primary wheelchair user, and I was FASCINATED with how he did everyday things. Looking back, I laugh when thinking about how annoyed he must have been, having a 6-year-old asking him how he took out the trash cans, how he drove his cool car, how he made his bed, and so many other things. I once asked him who helped him the most, and he said, "a physical therapist," without missing a beat. And I just knew I wanted to be that for people one day.
2. What are your biggest motivators?
My biggest motivators were seeing the changes in kids, "big little leaps" we call them. Something that seems small to most but mean the world to the children we serve. A close second is the lifelong connection we have with the families we serve, something unique to the therapy setting as we really get to know our patients, and let them in.
One of my favorite moments was seeing the smile on the face of that very first Leaps kiddo who came back when we opened this shiny new building, that looked so much different than how we started. When she started, we met at a small local arena, with a borrowed horse, with my husband as the handler, and we figured it out together. Our clinic space was a cinder block corner office in a suite of offices, with hand-me-down leftover equipment a few new things here and there. She believed in me, and her parents believed in me. They trusted me to put their child, who couldn't hold her head up or sit by herself, straight from her wheelchair and onto a horse. They didn't care what the building looked like then. Well, she and her family came to see us when the new building opened, and her dad leaned over to me and whispered, "and now the outside is just as beautiful as what has always happened on the inside." And THAT keeps me going every day. I am blessed to see the big little leaps that our kiddos are making every day. There are no bad days here.
3. Why did you choose to specifically offer hippotherapy?
While teaching at USC, we talk a lot about scientific research and that everything we do should be grounded in research. I learned that hippotherapy is the most effective and the most scientifically based treatment for helping children with neuromuscular dysfunction gain postural strength and motor skills. What better place to offer this special therapy than Horsetown, USA! Knowing that it is so grounded in science and works is a no brainer. It actually makes my patients better, faster and it's really fun! What a perfect opportunity to blend two things that I love – horses and helping kids!
4. What is the single most valuable thing you have learned while embarking on this journey to open and grow Leaps?
The most valuable thing I have learned when starting Leaps is to surround yourself with good people. People see that you want to do some good and genuinely want to help. There is no way that I could do this by myself. The amount of people that need our services continues to grow, and I am blessed beyond measure to continue to find quality people, who saddle up right alongside our mission and carry it as their own. It is incredible to see this dream of mine become the dream of so many others, staff, volunteers, supporters, and our families, who all pitch in what they can and where they can to keep the reach growing.