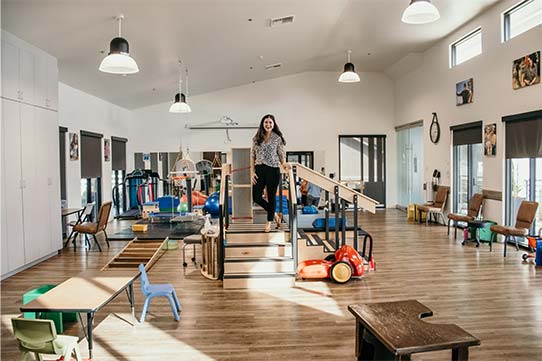 Leaps & Bounds Pediatric Therapy was founded in June 2010 by Cassandra Sanders-Holly PT, DPT, PCS. Cassandra had spent 6 years of her career as a physical therapist in a pediatric setting in Orange County and educating doctor of physical therapy students at the University of Southern California. She returned home to Norco and noticed a severe lack of specialty pediatric medical services in the area, leaving most families to have to drive over an hour for quality pediatric therapy services, often multiple times per week.
As a horsewoman since childhood, she was excited to learn that research evidence is highly supportive of hippotherapy – the use of the horse, in helping children with neuromuscular dysfunction gain postural strength and improved motor skills. As a leader and educator in the field, research evidence is of the utmost importance, and what better place to offer this special therapy than Horsetown USA. She knew it needed to be done!
Leaps & Bounds started with Dr. Sanders-Holly in a small office, in an office of offices helping just 4 patients in the first 6 months. With Dr. Sanders-Holly's leadership, over the past several years, Leaps & Bounds has grown to a team of the most dedicated and talented therapists in the industry who now collectively serve over 1000 patients per week.
"It's been incredible to see this dream come to life, to fulfill a need in my community, and make a difference in so many lives. We've expanded our programs to meet so many different needs, and we will just keep going! I am grateful for a team of dedicated professionals who bring their best each day!" -Dr. Cassandra Sanders-Holly. This growth demonstrates the true need for our services for the underserved children of the Inland Empire. We have grown by Leaps & Bounds while we help special children do the same!