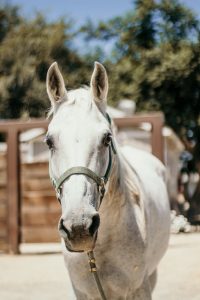 Cara is our gorgeous tall white horse that every little girl dreams of! She is 16.2 National Show horse. She is very sweet and easy going. Cara loves to trot with the kids, and is a smooth ride. Cara enjoys a lot of attention and grooming.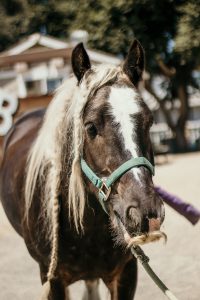 Cash is a Gypsy loaned to us by his wonderful owner Pam. He is very easy going and loves treats. All the girls at the ranch are memorized by his long flowing hair. He is great for our first time riders. Cash teaches proper grooming and bathing and braiding for the TR riders.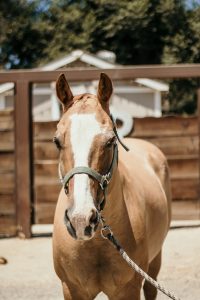 Cider's previous owner, Barbara, brought him here to board and knew he would be a great therapy horse. He sure does love a job and seeing all the activity at the ranch. He loves to keep moving and working hard for the Leaps kids. He is narrow and has a smooth rhythmic walk, and often puts kids to sleep.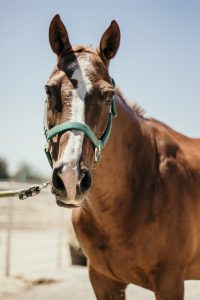 Dreamer is a Quarter Pony. Dreamer is a "dream" for our small kiddos. Dreamer loves the attention from kids. He used to show Hunter/Jumper but now lives at the Leaps Ranch and loves his life as a therapy pony. Dreamer loves to work and has great stamina so he can serve multiple kids a day. He has lots of movement for our kids that love sensory input.
Grace is a beautiful Quarter horse mare. Grace is an outstanding therapy horse. She provides a smooth ride and calmness for all our Leaps kids. She is a perfect size for a variety of kids. We can always count on Grace to take great care of the kids.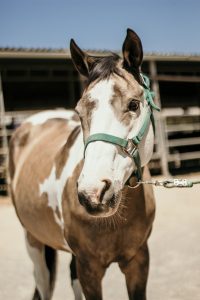 Noodles is a very loving easy going paint horse that has been with Leaps and Bounds for a while now. She is the go-to horse for first-time riders. She is trustworthy, calm, and loving. Her trot is smooth and easy for the kids to experience trotting for the first time. She is definitely a favorite amongst the kiddos.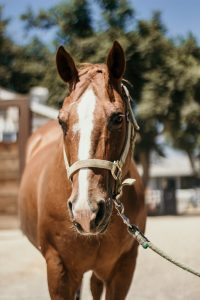 Rusty is a handsome 14.3 Chestnut gelding. Before his therapy horse career here at Leaps he succeeded in Obstacle Course showing, which makes him very mellow and safe for all who ride him. He is a calm and easy-going guy that loves the attention of all the kids that come to the ranch. Rusty is a comfortable and smooth ride, he has a wonderful smooth jog for those first learning how to trot.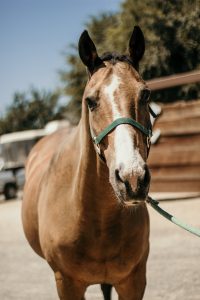 Smokey is a gorgeous 16.2 hand Appendix. Before he was donated to Leaps and Bounds he worked on a race track and then was trained in Dressage. Smokey's big size is great for our older kids and adults. Smokey loves apples and trotting with the kids. He is great for Therapeutic riding and Hippo. He is a great baby sitter for kids to learn to ride off lead.
---
Retired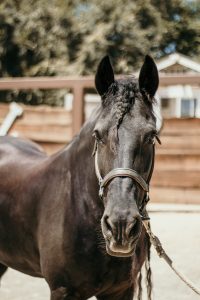 Empariss is a Friesian who retired from Dressage showing to enjoy a career as a therapy horse. Empariss is easy going, and very kind. She builds confidence in riders by being able to ride such a big horse with ease. Empariss loves to be greeted by all and is recognized for her long mane and tail (usually in a fun tail bag.) and her favorite color is pink!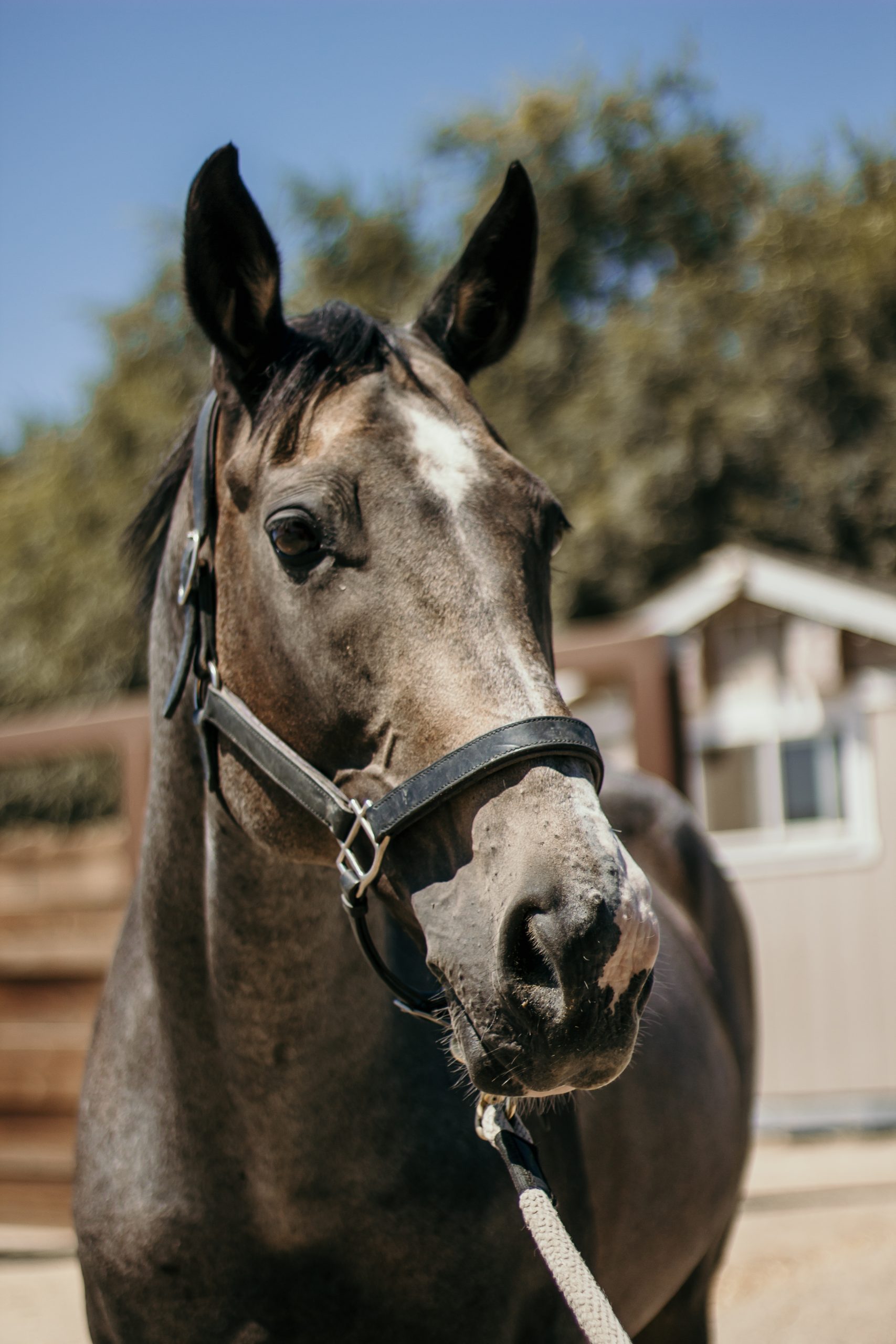 Rosie is loaned to us by her owner Lynn. She retired as a dressage horse and loved working at Leaps. She enjoyed all the attention she got from the riders, especially the extra carrots. She loved competing with our show team riders, since she has showing experience. Rosie has taken many riders to their first show, is recognized for her unique coat color and her huge walk stride.
---
Hung Up Their Shoes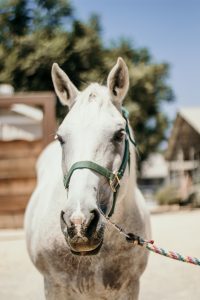 Lexi was another awesome addition to our team. She was a perfect height for our therapists. She had an awesome smooth comfortable stride to match her easy going and sweet personality. She enjoyed being groomed and bathed by our Leaps kiddos. She was a great teacher for our AR riders learning how to lead and ride independently.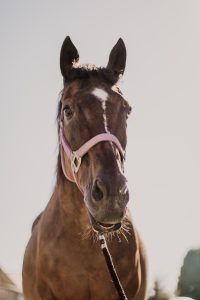 Star was one of our long-time therapy horses, she was loaned to us by her loving owner Julie. Star was always trustworthy and truly loved her job as a therapy horse. During her 10 years at Leaps, she was often used as a kids first time on a horse. Star was a retired racehorse who loved her retirement by seeing the kids thrive at the ranch. She will be missed by everyone who knew her, and was a favorite amongst our kiddos.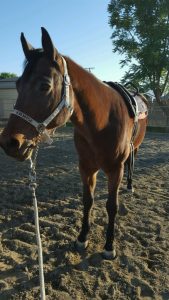 Mocha was a lovely dark bay Quarter Horse Mare. She spent her previous years as a children's show horse. Mocha was sweet, easy going and loved being ridden by kids. She was a great horse for our kiddos to learn showmanship with. Mocha is deeply missed and always remembered by the kiddos, families, and staff here at Leaps.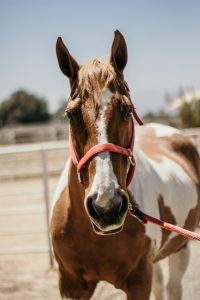 PC enjoyed her retired western riding life and loved being a therapy horse. She was patient and sensitive enough for our riders to ride off lead with little kicks. She brought a smile and confidence to them for being safe and easily ridden. She loved getting bathed and groomed, and always enjoyed looking her best. PC was loaned to us by her owner, Judy. PC is missed by everyone who knew her.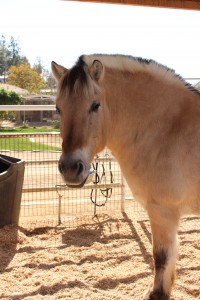 Thor was our very first Leaps therapy horse and was a ranch favorite! He was a striking Norwegian Fjord with a stout and strong frame and Mohawk to match. His calm, gentle rocking and kind, soulful eyes put all of our riders at ease. Thor had a long history of helping people with special needs. He was gifted to Leaps by an amazing woman who has cerebral palsy quadriplegia and helped countless kids at Leaps since then. In loving memory of Thor… he will forever hold a special place in our hearts!