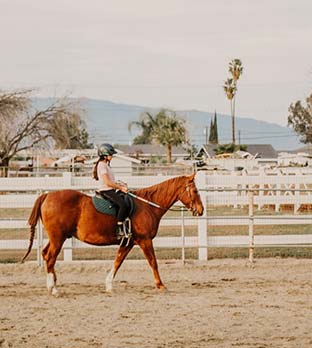 What is adaptive riding? Adaptive Riding (AR) uses equine-assisted activities for the purpose of contributing positively to cognitive, physical, emotional, and social well-being of people with disabilities. AR also provides benefits in the areas of health, education, sport, recreation, and leisure. AR instruction and exercises include: riding, horse anatomy, tack, and equine supplies.
Who is AR for? AR is designed for individuals with disabilities 4-years-old and older who would like to experience the rewarding benefits of horseback riding, horsemanship, and equine knowledge. Riding is designed to improve flexibility, strength, balance, self-confidence, socialization, and recreation in the outdoors.  Our instructors have experience working with riders with a variety of disabilities including, but not limited to, Autism, Down syndrome, Cerebral Palsy, Spinal Bifida, and Developmental Delay. Siblings and individuals without a diagnosis are also welcomed and encouraged to ride!
Our Adaptive Riding Instructors will perform an intake assessment and the individual's riding ability will be determined at the discretion of the instructor. Physical, occupational, and speech therapists are available for consult, if necessary, with the riding instructor, to maximize the rider's independence, safety, and achievement of goals, if needed — a unique benefit of our program. These instructors may collaborate with therapists to help tailor each child's experience.
Horse Anatomy & Tack-Equine Grooming:  Instruction and hands-on activities are provided periodically, especially on windy/rainy/excessively hot days.  Students will learn about horse anatomy and how it relates to therapeutic riding experiences. They will also learn the proper way to tack up and care for a horse. The students will be introduced to the necessary tools used to care for horses and about grooming and feeding. These activities promote rider confidence and independence.
Pricing:
First-time Registration Fee (due before time of assessment) ———-$65 (one-time fee)
Group Lessons (2 or more riders in a lesson) ——————————– Offered at $50 per lesson
Private Lessons (individual) (1 hour) —————————————– Offered at $65 per lesson
(Based on the rider's intake assessment the instructor will determine whether rider is best suited for a group or private lesson and length of lesson.)
Financial Hardship:
Financial hardship assistance may be available in extreme cases. Applications are available in the main lobby and here:
Financial Assistance Cover Letter
Financial Assistance Application
Megan Baker, Program Director: MBaker@leapspediatric.org
Colleen Bragalone, Executive Director: CBragalone@leapspediatric.org
Click here to download the 2023 Adaptive Riding packet and application.
CURRENT RIDERS: If you need to cancel your session, please email ARcancellations@leapspediatric.org