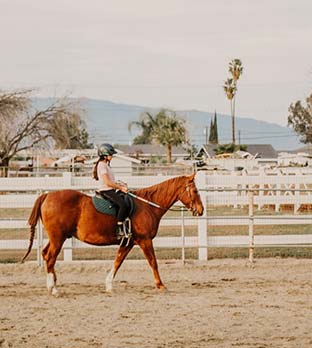 What is adaptive riding? Adaptive Riding (AR) uses equine-assisted activities for the purpose of contributing positively to cognitive, physical, emotional, and social well-being of people with disabilities. AR also provides benefits in the areas of health, education, sport, recreation, and leisure. AR instruction and exercises include: riding, horse anatomy, tack, and equine supplies.
Who is AR for? AR is designed for individuals with disabilities 4-years-old and older who would like to experience the rewarding benefits of horseback riding, horsemanship, and equine knowledge. Riding is designed to improve flexibility, strength, balance, self-confidence, socialization, and recreation in the outdoors.  Our instructors have experience working with riders with a variety of disabilities including, but not limited to, Autism, Down syndrome, Cerebral Palsy, Spinal Bifida, and Developmental Delay. Siblings and individuals without a diagnosis are also welcomed and encouraged to ride!
Our Adaptive Riding Instructors will perform an intake assessment and the individual's riding ability will be determined at the discretion of the instructor. Physical, occupational, and speech therapists are available for consult, if necessary, with the riding instructor, to maximize the rider's independence, safety, and achievement of goals, if needed — a unique benefit of our program. These instructors may collaborate with therapists to help tailor each child's experience.
Horse Anatomy & Tack-Equine Grooming:  Instruction and hands-on activities are provided periodically, especially on windy/rainy/excessively hot days.  Students will learn about horse anatomy and how it relates to therapeutic riding experiences. They will also learn the proper way to tack up and care for a horse. The students will be introduced to the necessary tools used to care for horses and about grooming and feeding. These activities promote rider confidence and independence.
Proper Attire and Equipment:
Practical and economic considerations may make it impractical for riders and their families to invest in formal riding attire. However, wearing the proper attire contributes to a positive and safe lesson.
Required:
ASTM-SEI approved horseback riding helmets (Bike helmets are not allowed.)
(Riding helmets can be acquired through Thrifty Horse, Amazon, or Stateline Tack.)
Closed-toe tennis shoes with rubber soles. (Open-toed or mule-type shoes are not allowed.)
Long pants (Shorts are not )
 Wearing sweatpants or slippery clothing negatively impacts stability while riding and should be avoided. Shoes that have slippery soles are also a risk that the rider would lose footing while riding. Some riders may wear short leg-braces to help support the ankle and do not interfere with the horse.
Optional:
Leather riding boots (Western or English)
Jeans, riding breeches, or jodhpurs
Lightweight jackets when weather is cool
Leather gloves (hand protection is beneficial)
Provided:
A horse
Saddles, Saddle Pads, Bareback Pads and Bridles
Grooming equipment and items for hands-on activities
Pricing:
First-time Registration Fee (due before time of assessment) ———-$65 (one-time fee)
Group Lessons (2 or more riders in a lesson) ——————————– Offered at $45 per lesson
Private Lessons (individual) (1 hour) —————————————– Offered at $60 per lesson
Private Lessons (individual) (30 Minute) ———————————— Offered at $40 per lesson
(Based on the rider's intake assessment the instructor will determine whether rider is best suited for a group or private lesson and length of lesson.)
Financial Hardship:
Financial hardship assistance may be available in extreme cases. Applications are available in the main lobby and here:
Financial Assistance Cover Letter
Financial Assistance Application
 Contact us to sign up today at (951) 339-3510.
Megan Baker, Program Director: MBaker@leapspediatric.org
Colleen Bragalone, Executive Director: CBragalone@leapspediatric.org
Click here to download the 2022 Adaptive Riding Packet and Application.
ADAPTIVE RIDING POLICIES
The following policies enable the best quality program possible:

Please arrive a few minutes early for your lesson. This will give you a chance to use the restroom, get your helmet on, and be ready to mount on time.
Excessively late arrivals may not be able to be accommodated and a cancellation may be enforced. Horses will be put away after 20 minutes.
Riders without proper attire will not be allowed to ride.
Rider must acquire an ASTM-SEI riding helmet by second lesson. (Please communicate with instructor if shipping delays are involved.) Riders may borrow a facility helmet for the first lesson.
If helmet is forgotten, rider may borrow a facility helmet, but helmet fitting will take away time from the lesson.
Weather may dictate whether the session is mounted or unmounted and will be at the facility's discretion. Instructors are well trained in conducting (F)UNmounted horsemanship skills and make the lesson fun and educational for all. Horsemanship education may be indoors or out on the ranch. Lessons are not cancelled due to weather.
Riders may come off the schedule due to excessive cancellations, repeated failure to pay promptly, or any other extenuating circumstance and will be placed on the priority list if no spots are readily available.
The front desk will no longer be taking AR payments.  Invoices must be paid:

Electronically by credit card using the invoice emailed to you, or
By cash or check placed in one of two available AR Payment Drop boxes on site. Exact cash only. (Drop boxes are located in the Leaps reception area or in the Adaptive Riding shed.)
CURRENT RIDERS: If you need to cancel your session, please email ARcancellations@leapspediatric.org