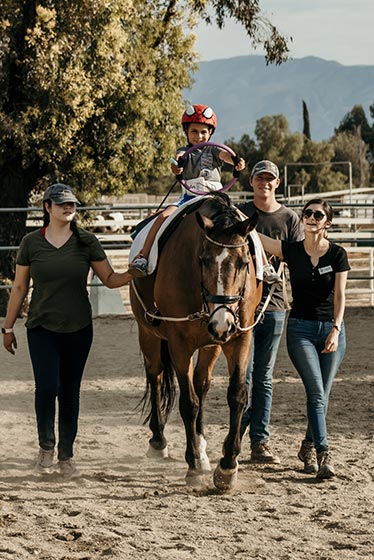 Friends of Leaps & Bounds Pediatric Therapy Inc, is a 501(c) (3) tax-exempt non-profit corporation. It was founded by four members of the community who noticed a severe lack of access to specialty medically-necessary therapy services for children with disabilities in the Inland Empire. Many children do not have medical insurance or the financial resources to pay for necessary therapy services to help them reach goals of independent physical functioning such as walking, dressing themselves, feeding themselves, or accessing school and the community.
Working in cooperation with Leaps & Bounds Pediatric Therapy Inc, our mission is to assist economically disadvantaged people with disabilities through providing Physical therapy, Occupational therapy, Speech therapy and Hippotherapy treatments and services at no cost or low cost. Hippotherapy is a highly research based treatment strategy used by physical therapists, occupational therapists, and speech therapists to achieve rapid improvements in functional skills. The cost to provide just ONE HOUR of therapy using this effective strategy is over $300 per hour, making cost a huge barrier to many families of children in need. Medical insurance typically reimburses less than 1/3 of this cost, which has challenged Friends of Leaps to support the other 2/3 to help these families!
We rely heavily on financial support from our community by way of donations to keep costs low for families and to create scholarships for children with severely limited resources.
We need your help, here are a few ways YOU can help:
Equipment donation-saddles, tack, hand sanitizers, toys and games.
Sponsor a Horse program- a regular pledge to support our special 4-legged therapists! The average cost to support one healthy program horse is $6,000 per year. We rely on 14 special horses to work hard for all of the kids we serve!
Directed Giving- friends, family, and supporters can make a donation to support the therapy needs of a child who receives therapy with us. (please talk to your tax consultant if you are interested in making a tax deductible donation)
Corporate sponsorships – A variety of partnership opportunities including pro bono, employee gift matching, in-kind donations, corporate training events, nonprofit event beneficiary day of service events, event sponsorships, and one-time or recurring donations.
Individual Monetary donations- no amount is too small, just $40 can pay for one therapy helmet, that are necessary to protect our special riders. We go through 10 helmets every 6 months!
Volunteer! We love to have volunteers out to help and we rely heavily on our awesome volunteers. Regardless of experience, we can use your help out on our ranch to help these special kids grow!
Please contact us to help our special kids grow by Leaps & Bounds!